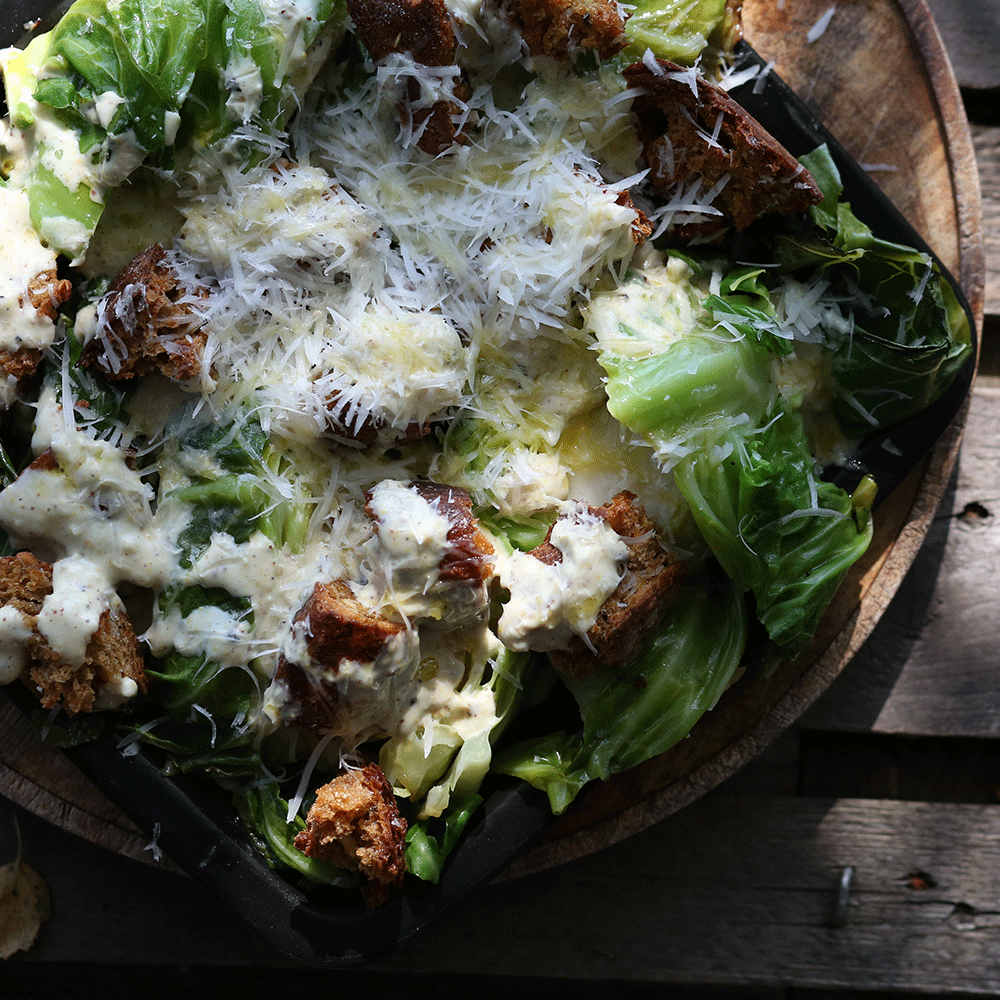 Crouton Cabbage Ceasar
A lip-smacking twist on a classic.
Ingredients
1 pointed cabbage
2 cloves of garlic, peeled and grated
2 tablespoons of plant based mayo
3 teaspoons of dijon mustard
The juice of 1 lemon
Freshly ground black pepper
Sea salt
Olive oil
2 handful of Violife Mediterranean style block, freshly grated
A chunk or 2/3 slices of leftover bread
Process
1. Pre-heat the oven to 180c / 340f / gas mark 4.
2. Tear up the bread into chunky pieces, scatter them on a baking tray, drizzle with olive oil, sprinkle over a pinch of salt and pepper then pop the tray in the oven to bake for 10 to 15 minutes to let them crisp around the edges. Once they're ready, remove from the oven and set aside to cool.
3. Wash the cabbage then cut it in half, lengthways. Drizzle the cut sides with olive oil and rub it in.
4. Place a large frying pan over a medium heat. Once the pan is hot, place the cabbage halves, cut side down into the pan and let them sizzle for 4 or 5 minutes or until the cut side is a dark golden brown.
5. Splash 1 tablespoon of water into the pan and either cover with a lid or with tin foil. Let the cabbage cook for a 10-15 minutes - the heat from the pan and splash of water will steam the cabbage through so that its lovely and tender but still has a bit of a bite in the middle.
6. While the cabbage cooking, make the dressing by mixing together the mayo, garlic, mustard and lemon juice with a tablespoon of olive oil, good pinch of sea salt and freshly ground black pepper in a bowl. Have a little taste to check that you're happy with the seasoning - it should taste a bit over the top and a bit intense!
7. Once the cabbage is cooked, transfer both halves onto a chopping board. You can either cut each half into wedges or cut it into chunky 1 inch slices, widthways. Arrange the cabbage on large plate or serving board and drizzle over all the dressing, scatter the croutons top followed by the grated plant based cheeze.
8. Serve with an extra drizzle of olive oil and tuck in!